Longshore Lake, Naples, Florida Real Estate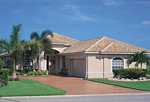 View all properties for sale in this community
The 310-acre Longshore Lake community has 565 single-family homes, many located on its 88-acre lake. Residents may use kayaks, canoes and electric-powered pontoon boats on the lake. Amenities include a clubhouse with dining room, bar and grill; fitness center; heated swimming pool and nine lighted Har-Tru tennis courts managed by a tennis pro.
The Dunes, Naples, Florida Real Estate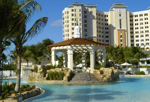 View all properties for sale in this community
The Dunes community consists of three highrise towers in the Island Cove neighborhood; coach homes in the Sea Grove neighborhood that surrounds a lake, and four highrise towers with larger floorplans of 2,700 to 3,700 square feet in the Grand Preserve neighborhood. The original three towers have a dozen floors each. The four larger towers have 15 to 17 floors. Named after the sand dunes that were prominent features of the property before it was developed, the community has wide views of the surrounding nature preserve, Wiggins Pass and the Gulf of Mexico. Dining is offered at the Plantation Club. Amenities also include a fitness facility and tennis courts.
Pelican Bay, Naples, Florida Real Estate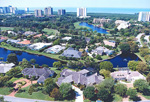 View all properties for sale in this community
Pelican Bay is a master-planned community that has 65 neighborhoods clustered around three miles of pristine beach. The area is bounded by two sentinels: the Naples Grande hotel on the south and the five-star Ritz-Carlton on the north. With the exception of the Strand neighborhood of Gulfside mansions, residences are separated from the beach by a mangrove forest and Clam Bay. A string of highrise towers, however, have stunning views of the Gulf of Mexico. The interior properties include midrise buildings, attached and detached villas, garden condos and single-family houses that surround the private, 27-hole Pelican Bay golf course. The neighborhood is governed by the Pelican Bay Foundation, which maintains two beachside restaurants, tennis facilities and the Community Center, which includes meeting and social rooms and a business center. The hub of the community is the Philharmonic Center for the Arts, which hosts world class performers and artists. The Waterside shopping center includes internationally known stores and popular restaurants.
Featured Listings